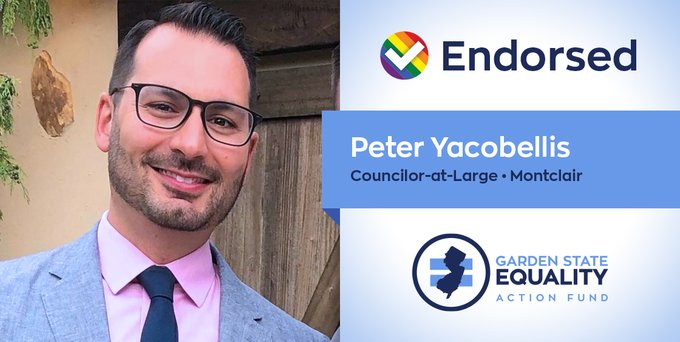 State's Largest LGBTQ+ Group Notes Crisis Management and Advocacy Experience
MONTCLAIR, NJ (April 1, 2020)—Garden State Equality, the largest LGBTQ+ advocacy organization in New Jersey, has endorsed Peter Yacobellis for Montclair Township Council. Yacobellis, a former official with New York Gov. Andrew Cuomo's administration and long-serving LGBTQ+ rights activist, is seeking an at-large council seat in Montclair's municipal elections May 12. The endorsement highlighted Yacobellis' extensive experience in government, crisis management and constituent advocacy.
"For nearly two decades, Peter has been advocating for the rights of the LGBTQ community–both in New Jersey and New York," said Garden State Equality Executive Director Christian Fuscarino, "From Garden State Equality to the Trevor Project, Peter steps up in times of crisis, partners with organizations, and ensures the community is well equipped to address what's needed," Fuscarino said.
"As a leader within the Cuomo administration, Peter has the experience to decisively lead in the political world and advocate for his constituents," Fuscarino said. "More, his campaign is historic, as he would be the first openly LGBTQ councilor in Montclair's history — a community Garden State Equality has called home for many years. Garden State Equality Action Fund is proud to endorse his candidacy," he said.
"I am so excited to receive this endorsement. For nearly two decades, Garden State Equality has been a model for statewide LGBTQ+ rights organizations; helping New Jersey be one of the first states to pass marriage equality and ban conversion therapy. I'm so grateful to the Board of Directors for their unanimous endorsement of my candidacy. I know together, we will advance the equality agenda here in Montclair."
ABOUT Garden State Equality
Established in 2004, Garden State Equality (GSE) is New Jersey's largest LGBTQI advocacy organization, providing services including advocacy, public policy work and trainings. With more than 150,000 members, it is one of the most successful statewide civil rights organizations for the LGBTQI community in the nation. The Garden State Equality Action Fund provides support and resources to LGBTQI candidates running for office at all levels of government in New Jersey.
ABOUT PETER YACOBELLIS
A former administration official with New York Gov. Andrew Cuomo, Peter worked to pass marriage equality in New York and ran the administrations' rent stabilization office and Super Storm Sandy command center. He has been at the forefront of his generation's fight for LGBTQ rights. As the former Finance Director of Garden State Equality, Peter helped lead New Jersey's many equality efforts. Among many other initiatives, he helped organize the 2009 march on Washington that led to the reversal of the military's "Don't Ask, Don't Tell" Policy and the passage of the Matthew Shepard Hate Crimes Bill; launched Trevor NextGen–the largest LGBTQ volunteer network in the New York Metro area—in response to the death of Tyler Clementi; and chaired the Trevor Project's Board of Directors Government Affairs committee. Peter studied business management and political science at Adelphi University and has a graduate certificate in environmental sustainability from Columbia University. He is a former brand and marketing director with American Express and is currently the director of human resources and facilities for Amicus Therapeutics, which develops treatments for children living with extremely rare diseases.
For more information about Peter Yacobellis, visit peterformontlcair.com or follow him at https://www.facebook.com/pyacobellis