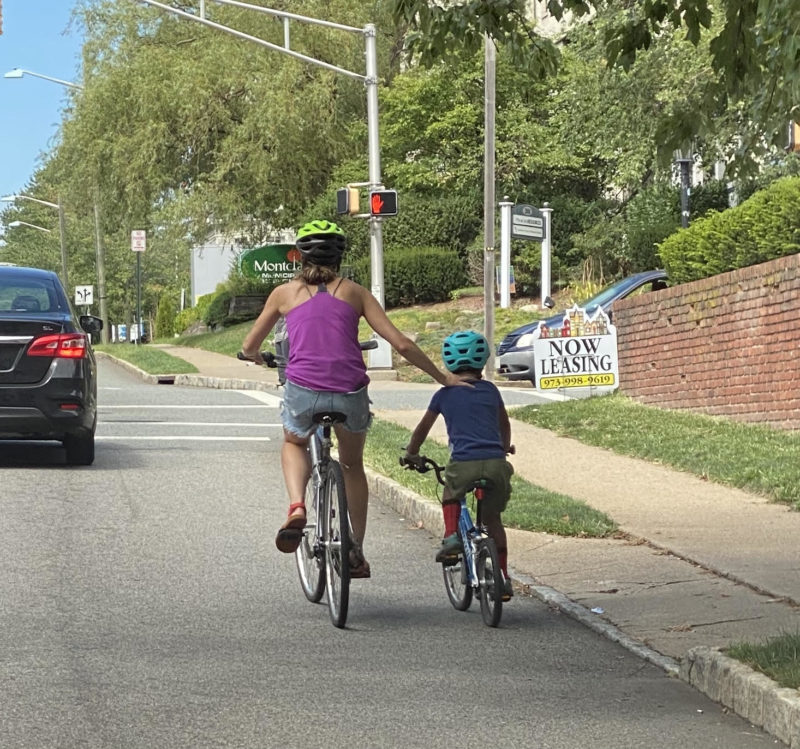 Next week, after years of controversy and debate, the Montclair Planning Board will be considering adopting the Streets Are For Everybody (SAFE) Plan — guidelines for addressing Montclair's challenges with traffic, congestion, parking shortages and pedestrian and bicycling safety. The SAFE Plan was commissioned four years ago by the Montclair Town Council and researched by professional engineers with community input–funded by a grant from the NJ Department of Transportation, it provides well-researched guidelines on the enhancements and improvements that could guide the long term evolution of Montclair's streets and walkways into a safe and inviting network for all forms of vehicle and foot transportation as we strike that necessary balance of growth and character preservation in the years ahead.
---
As a town of nearly 40,000 residents which prides itself on its vibrant small business community and reputation as a regional dining and entertainment destination, these issues have long been of concern. Certainly, one of the features residents value about Montclair is the proximity many of us have to walk or bike from our homes to dining, shopping, entertainment and public transportation. Yet, we don't have the infrastructure to support us safely doing so and the plan has been met with curious resistance — misperceived as bicycling enthusiasts seeking to reduce vehicle parking.
Nothing could be further from the truth. First of all, encouraging walking and bicycling would reduce the demand for parking in our commercial districts while actually increasing foot traffic for these businesses. Secondly, one of the primary reasons Montclair suffers from such a parking shortage is that too often we wave parking requirements for developments based on misguided underestimations of car use and ownership in Montclair.
Thirdly, we now must consider how the COVID-19 pandemic has brought renewed urgency to our need to improve the health, safety and accessibility of our streets and open spaces. I believe this crisis has in many ways already shown us the future so many of us want for our town — one that centers on community and camaraderie, made easier by a grid of public spaces conducive to human interaction.
Our town of many commuters has become a town of small offices, and our school children are learning remotely. Perhaps the only silver lining of this enduring crisis is the hope that more people in town during the weekday means more customers for our small businesses — grabbing a morning coffee at a local cafe, popping into that shop to buy someone a gift, lunching outdoors or ordering take-out from our local restaurants. Now and in the post-pandemic future, we should be encouraging people to consider walking or bicycling into town by making it a safe and convenient experience. The benefits to our health and the environment are countless.
Perhaps most urgently, our shared collective dread at what will likely be challenging, and isolating months ahead reminds us that walking and bicycling provides our community — from our seniors to our youngest children — with one of the few safe opportunities available to us for fitness, recreation and socialization. This past spring, as we emerged from the dark winter of quarantine, the sight of Montclair's streets joyfully teeming with bicyclists and joggers and strollers allowed us to recapture some sense of normalcy and well-being and replenish our basic human need to connect with the outdoors and each other. At the very least, we must provide our young people a safe alternative for transportation and additional opportunities for physical activity. We have never been more acutely aware of how important our outdoor spaces were to our mental and physical health and quality of life. Some of that may revert back when the pandemic subsides, sure. But much will remain, as it's who we are by nature.
In closing, I'd like to address some of the falsehoods and outright lies that have been presented as objections to the SAFE Plan:
FALSE: This is a plan to change all of our streets at once and spend millions of dollars
This is only a set of options the town would have in place for the government to consider when the political will, community support and the funding to support improvements existed.
FALSE: Bike lanes will reduce parking and impede drivers
Montclair bans and/or restricts on-street parking throughout most of its residential neighborhoods, so no parking would be lost if bike lanes were designated in these areas. Additionally, on low traffic roads, there is no need for bike lanes to be hardscaped in a way that would impede movers, landscapers and delivery trucks.
Secondly, the sense of space and openness that Montclair's wide streets and off-street parking provides drivers actually increases traffic hazards. In fact, one effective way to reduce speeding and narrow streets is to actually add more on-street parking. Bloomfield is experimenting with this with reverse back-angled parking. In Montclair, drivers use this space to pass each other on the shoulder and speed with impunity–both of which are dangerous and illegal. Reducing vehicle speed is one of the main objectives of SAFE. The plan would give us best practices for narrowing problem streets by many means– bike lanes, curb extensions, mini traffic circles or lesser known options such as chicanes.
No one is suggesting we eliminate or even reduce parking in our business districts. In fact, we need to make parking easier and more accessible and create space for ride sharing and food delivery services. However, we should also provide people with the opportunity to leave their cars at home. This requires a well-thought out pedestrian strategy, such as making sure crosswalks are safe, beautifying our sidewalks and creating pedestrian plazas. Our street grid and neighborhoods are what makes Montclair special. We want our downtown and our business districts to remain neighborhoods, not become strip malls.
FALSE: Montclair's streets are too old to be retrofitted for pedestrian and bike traffic
Cities much older than Montclair have implemented biking and walking infrastructure to great success. Beverly, MA, Wausau, WI, Carmel, IN, Norwalk, CT, and Crested Butte, CO, despite being older cities in much harsher climates than Montclair and have all been ranked as top small cities for biking and walking. These types of designations create interest in communities, attracting business investment and boosting property values. Montclair's street grid, localized business districts and relatively flat north-south grade make it an ideal community for pedestrian and biking infrastructure, and we should be reaping the benefits that come with that.
Implementing the SAFE plan would create a safer, more livable, more attractive and more sustainable community for all Montclairions. It provides solutions to our long-term concerns with traffic, parking, congestion, street safety and accessibility, while also addressing our more urgent needs of quality of life, reviving our local businesses, and public and mental health. We have an opportunity before us to finally amend our master plan in a way that demonstrates how we value safety and mobility in Montclair. I am calling on the Montclair Planning Board to once and for all, adopt the Streets Are For Everyone (SAFE) guidelines into the Township Master Plan.