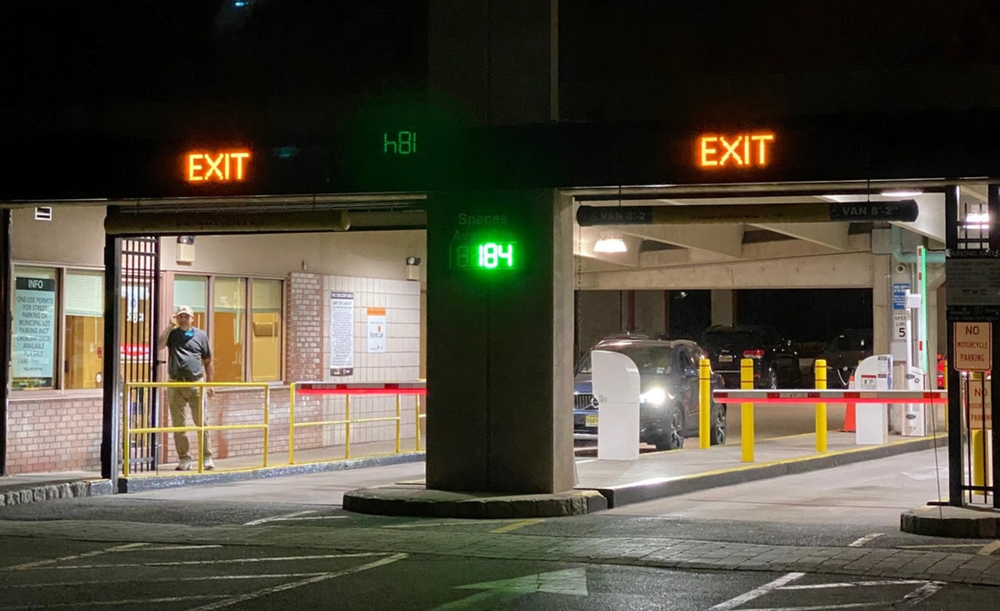 Parking in Montclair
I've been getting a lot of questions and have been doing some thinking and wanted to share some of my thoughts on the challenges with parking in Montclair.
With our most acute challenge — parking in/around downtown, I'll say that governments that have pre-dated this one made the decision to dramatically densify downtown Montclair. I don't think that genie ever gets put back into the bottle. Overall, I'm not opposed to smart development and densification downtown if our infrastructure and town services, including schools can handle it and if those decisions, including parking needs, are guided by data and not esoteric assumptions about human driving behavior. But this isn't simple. This is a puzzle with many pieces and I wanted to take a few minutes to elaborate on my thinking about several of them in terms of how we go forward:
Parking Meters
What happened with our meters in 2021? The simple answer is that Verizon essentially disbanded 2G service to Montclair about 15 months before they were supposed to (Dec. 2022). This then forced the meters to work hard to try to draw a wireless signal which in turn drained their batteries. This is the same thing that happens with your phones when you have no or low service. This exhausted batteries, which is why hundreds of meters simply stopped working. But we are aggressively updating parking meters to 4G and installing new kiosks in our municipal lots.
I recently tried to amend the law to remove the archaic rule that says you will be fined if you park at a broken meter and don't pay via Park Mobile (more on that in a moment). This effort was unsuccessful. I also tried to extend free two hour holiday parking at our meters to begin on November 1st to create some relief and give the Township the rest of the year to catch up to the backlog of the work outlined above. Unfortunately that was rejected as well. You should note that free 2-hour meter parking will run until just after Christmas.
Owning vs. Leasing Meters
We're also looking into the question of should the town continue to own and service our own meters or should we lease them. While it would seem sensical to lease them since the technology is always evolving, leasing them requires that we pay for them out of our operating expense budget, whereas buying them enables us to borrow funds at very low interest rates to own them. This matters quite a lot when revenues are down like they've been throughout the pandemic and we don't have wiggle room in our operating expense budget to absorb a major investment like this. Owning them also enables us to make quick fixes like swapping batteries and unjamming coins.
Future Meters
I've been speaking with Aging in Montclair and other senior groups to understand what an evolution away from coin-based machines might mean. Generally there is reasonable resistance to that. Not having coin intake would result in far less issues of sabotage and malfunction, but we have to weigh that against convenience for all residents. The new kiosks we are installing will accept coins, cards and two different apps.
Park Mobile App & Stickers
I've heard complaints and have experienced my own challenges with the Park Mobile app. Our Township staff is aware and they are working with the vendor to clear up some of the glitches. What I will say is that I have far better luck when I select my 4-digit zone code from the map vs. typing it in. I recommend that. I'm also aware that several people have been ticketed even if they've paid on the Park Mobile app. Our Township leaders are aware of that and I hope will be instituting new training protocols for Parking Enforcement. Whenever you check out on Park Mobile, please make sure that you're selecting the right vehicle and that information is accurate. I've made that mistake myself a few times, accidentally selecting my old car.
Although it may seem silly to some, we did also ask for the broken meter policy to be affixed by sticker to the meters. This is mostly to the benefit of anyone who doesn't know our violation rules (again, that some of us tried to change). We are also endeavoring to make sure 4-digit decals are on every meter post.
In general there a lot of lessons to take away from these issues and this has been a regular (near daily) topic of discussion with my colleagues on the Council and town leaders who are truly trying to solve this problem that I believe is causing great harm to our town's reputation.
On-Street Parking
I believe we have to be honest with ourselves. When the decision(s) to densify downtown Montclair were made, with that went the convenience of being able to park in front of or pull up to a place of business downtown. We now have an urban core. ("Where city meets suburb") And in an urban core, typically you have to park in a deck or outside of the urban core, to get to the urban core. Better, in my view is if you could walk or ride a bike safely or if better mass transit options existed. (I'll save that for another post). So to me, the thinking has to shift and we should also be looking at realistic projections for use of ride-sharing services in the years ahead and much later, autonomous vehicles. I believe that several parts of downtown would be much better served by having gig-economy service labeled loading and unloading zones (Uber, Lyft, Door Dash, Grubhub etc…)
Parking Decks
In addition to encouraging densification, previous governments have also rightly worked to ensure new parking decks were constructed, which we see now with the 200+ capacity deck next to the Wellmont Theater (best accessible from S. Fullerton next to Bangz) and another 200+ capacity deck going up on Glenridge Ave. This is a good thing. These will join the Crescent deck behind Church St., the Fullerton deck next to the YMCA as well as the deck at Valley and Bloom to the west and Bay St. to the east in terms of providing capacity for approximately 1,500 cars in decks alone, downtown. In my view and I believe the data will show this later — by early 2022 we will have sufficient parking availability to support full tenancy of commercial space downtown.
It's also important that we implement a set-aside for employee parking in our municipal decks. This can be done with separate swipe access, say on the top level for anyone with a special badge. More on this soon.
Improving Circulation
I'm delighted that construction is now underway to improve Bloomfield Avenue overall, including the majority of crossings to enable better circulation of vehicular traffic downtown and significantly improve safety. The treacherous "five corners" is being fixed thanks to some great foresight by community leaders like Martin Schwartz and Essex County Commissioner Brendan Gill as well as our Planning Board and previous governments. This plus better signage (next section) and better technology, including mobile web and app-based maps of parking facilities, their availability and the ability to reserve and pay for parking are all things we must do. Recently the Wellmont theater began to pilot the integration of the purchasing of parking into the checkout experience for tickets. Pre-paid parking and specific directions of where to go, is a really great way to improve the visitor experience to Montclair and eliminate the treasure hunt that is finding a spot downtown.
Digital Signage
When you arrive by car in downtown, whether you're a resident or visitor from another place, we should be making it much easier to navigate yourself right to a parking deck. To be clear, some of this has been in thought and early practice for a long time. You're starting to see digital availability signs affixed to the exterior of our decks. I want to see digital parking availability signage coming onto Bloomfield Avenue – and- eventually an introduction of app capability that allows you to know where there is availability and reserve and pay for a spot. Anecdotal, but important for this all to function well: we are also requiring the owner of the new deck with the Seymour St. development to place a digital sign on S. Fullerton so that the entrance to that deck and the availability of parking is much more conspicuous. Better signage and circulation will mean less congestion and a faster turnaround time for someone needing to park and pick something up from a restaurant or shop.
Surface Lots & Signage
I'm excited that we're going to be bringing new kiosks to our surface lots. You should start to see these new "flowbird" kiosks around. In addition, I've also asked for a comprehensive review of signage in these lots to ensure much more nuance, particularly for permit parking only signs in transit lots. Those should have the language 7am-7pm Mon-Fri added to them so that anyone can park on the evenings and weekends. In particular I want to see this in Watchung Plaza, South End and Walnut Street lots (Walnut would need additional nuance because of the Farmer's Market). Right now these lots are not optimized for weeknight and weekend use by patrons of restaurants and they can be with simple signage updates.
I also hope that we might figure out a way by looking at what other towns have done, to do a senior parking set-aside in some of our lots. There are plenty of people who would benefit from closer proximity to business entrances who don't qualify for handicap permits for those spots.
Parking Permits
COVID has changed everything. I don't know when or if we'll ever truly go back to five-day-per-week commuting and what that means specifically for permit parking in our transit lots, including the Bay St. deck and the subsequent waitlists. But I think this is ripe for creative thinking and a different approach. We're losing a lot of money in parking revenue, yet we have waitlists for residents even just looking to park their car overnight vs. during the day who I know would pay. Again, anecdotally, this past Saturday night, I was having dinner with my family on Church St. Downtown was packed — every restaurant full. I noticed at peak time, 8pm, we had almost 400 spots available just in two lots on a beautiful Saturday night in downtown. We have problem with parking on the street downtown. We don't have a problem with having parking capacity within a reasonable distance to your destination downtown.
Overnight On-Street Parking
Let me be unequivocal about this: It is time to permit residential overnight parking on streets in our dense areas of town, including downtown, where it can safely be done – meaning it doesn't impede the passage emergency vehicles.
I support a simple permit/decal system that you pay for and gain the ability to leave your car on certain streets overnight. But as simple as that seems, getting this done is complicated as you have to reconcile it with the web of policy that governs the A-Z of our permit types and all of the various parking facilities and in a way that sustains our revenue as a town and doesn't alter the value proposition for what people have paid for so far.
Advisory Committees
The Council is looking holistically at our advisory committees and boards and where there are needs. I think we're in desperate need of a volunteer group of individuals with varied expertise to come together and think through some of these complicated transportation-related issues and work with our township staff and members of the Council on developing solutions. That is something I have proposed and will continue to discuss with my colleagues in hopes that we can launch something in 2022. Keep this in mind if this is something that from a policy perspective, speaks to you.
Thank you for taking the time to read some of my thoughts.
Any views expressed in this email are those specifically of Councilmember Peter Yacobellis and not, unless otherwise specified, the views of the Montclair Township Council or Government.