I hope you're all doing well. I wanted to send out a note about a few things coming up that might be of interest as well as ways you can help those in need for the Thanksgiving holiday and maybe even help me and some others preserve an important part of Montclair's African American history.
Town-Wide Town Hall on Lackwanna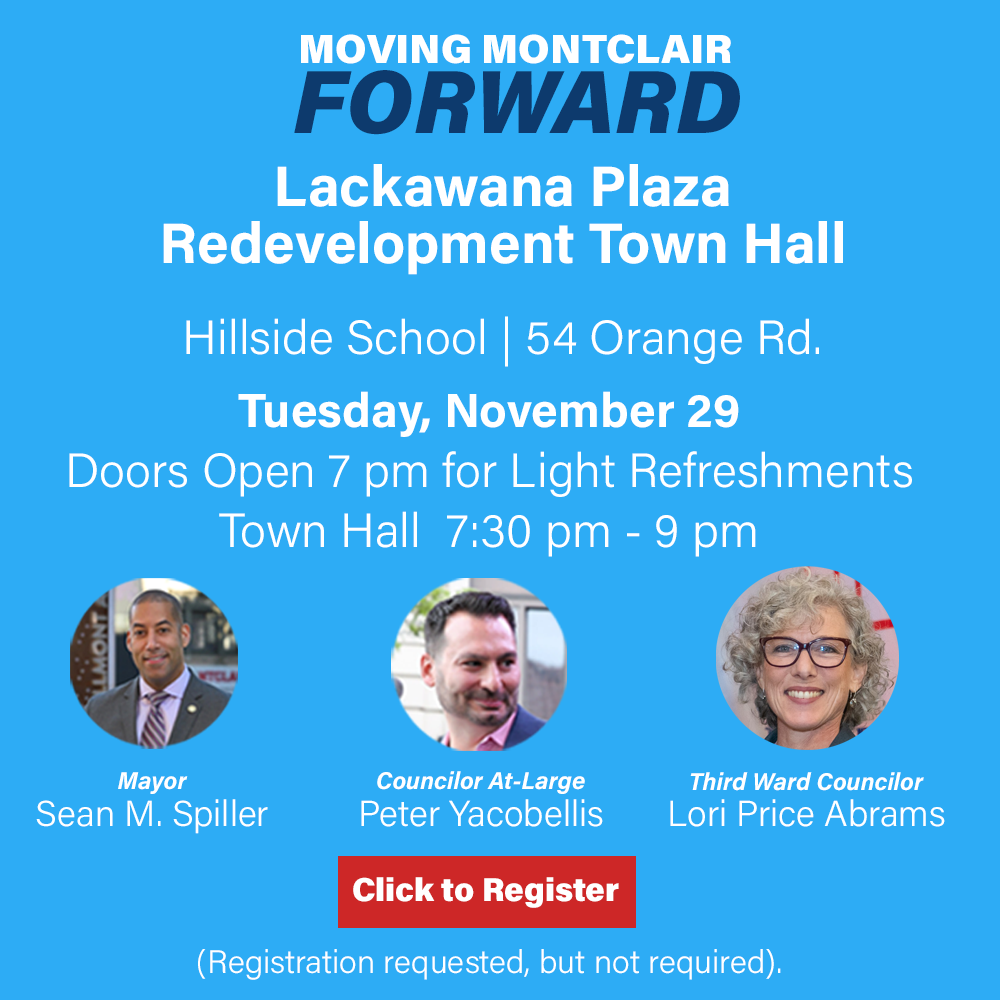 Community input and transparency are essential when it comes to big, transformational projects in Montclair. I'm excited to co-host a town hall featuring Lackawanna property owner David Placek on Tuesday, November 29, from 7:00 pm – 9:00 pm. I will be co-hosting the event with Mayor Spiller and Third Ward Councilor Lori Price Abrams to address the Council's draft redevelopment plan for Lackawanna Plaza. Complimenting fourth ward dedicated sessions my colleague Councilor Cummings has hosted which I attended, this will be another great opportunity to review plans, answer questions and hear concerns from everyone in Montclair. Registration is appreciated but not required. You can click the image above to complete the quick registration.
As the Council person living nearest to Lackawanna Plaza, I know what an anchor it is in our community and will acutely feel the impact of whatever is built there. I believe that the redevelopment plan has broadly been crafted to preserve the plaza's historic integrity while also meeting community needs in terms of open public space, affordable housing and more. I'm in support of initiating Planning Board review as soon as possible so that we can then get to the far more detail-oriented site plan development.
In addition to finally bringing a grocery store back to my neighborhood, I recently wrote about the many elements of this project that excite me. But that said, I of course want to know how you all feel this is just another opportunity with many more to come.
Help Preserve African American History in Montclair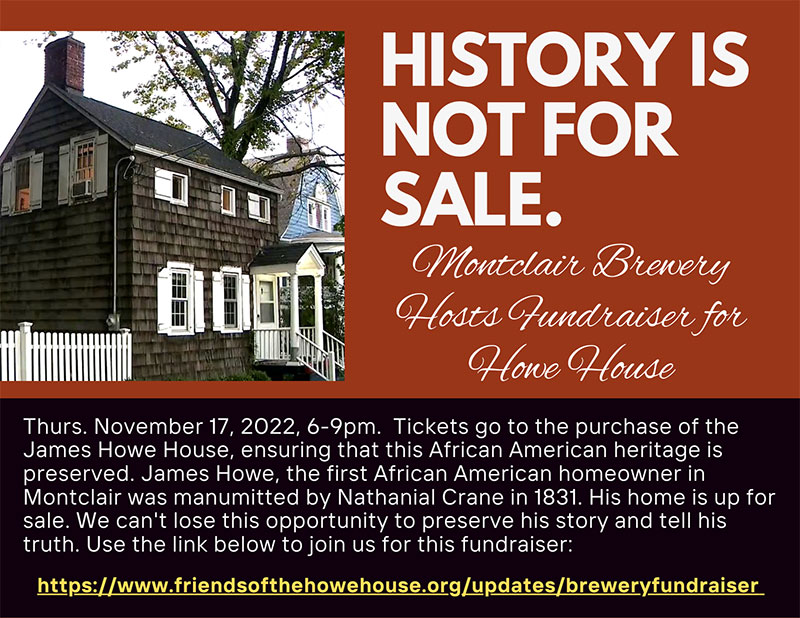 The James Howe House has been an essential part of African American History in Montclair, NJ. The Howe House is one of the oldest properties in Montclair and the first property owned by an African-American, James Howe. After manumitting Howe, Nathaniel Crane left him this very house, six acres of land, and $400 in his will. This house came to be known as the Freed Slave House!
The fight to save this heritage is not new, and the erasure of African American History is rampant. Montclair is no different. Home to many African Americans who have paved the way for generations, his home signified the importance of home ownership to the African American community in 1831, and now it's up for sale.
Please consider helping Friends of Howe House purchase the property to ensure the preservation of this treasured piece of our town's history. You can do so by attending the above event this Thursday at the Montclair Brewery or visiting their site and making a standalone contribution.
Learn about and Support the Howe House
Consider Helping with a Thanksgiving Food Drive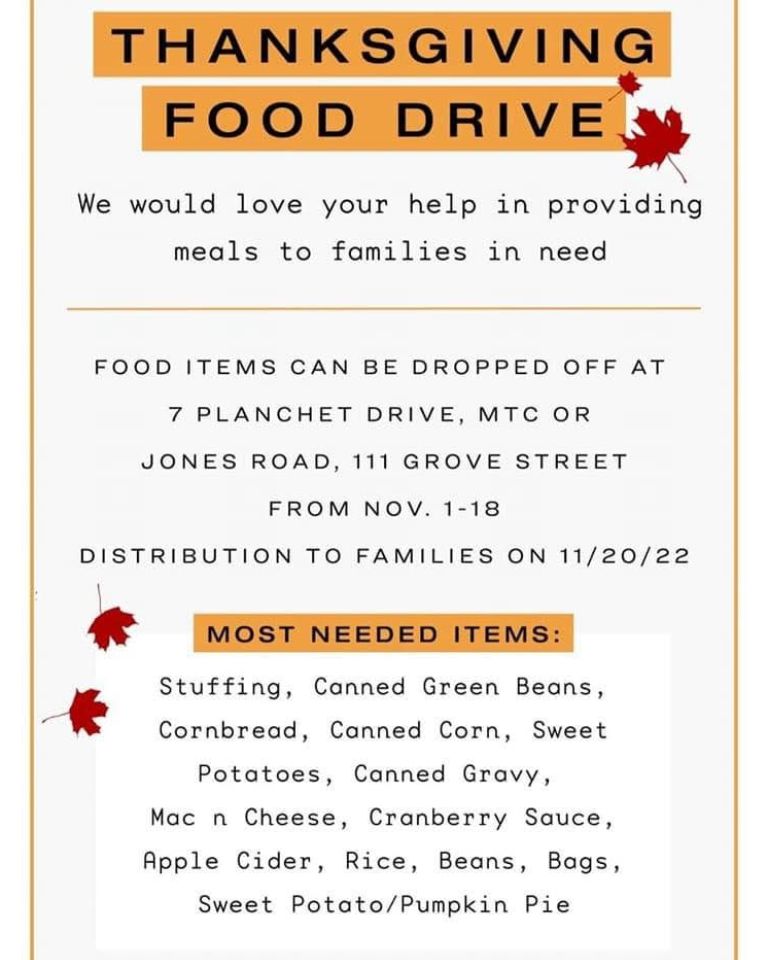 The wonderful organizers of this drive are hoping to give a nice Holiday dessert i.e. cookie platter, fresh pies/cakes to the families they're preparing kits for.  They can also use fresh potatoes, peppers and onions to go in the boxes. They have all of the turkeys they need. 

They would prefer the desserts/ fresh produce to be sent/dropped off closer to the Nov. 16th – 18th so that they can remain fresh for the holiday. See drop off locations in the graphic above.

Questions? Reach out to Madeline Guthrie at: reachingoutmontclair@gmail.com
Have some fun downtown Saturdays through the Holiday Season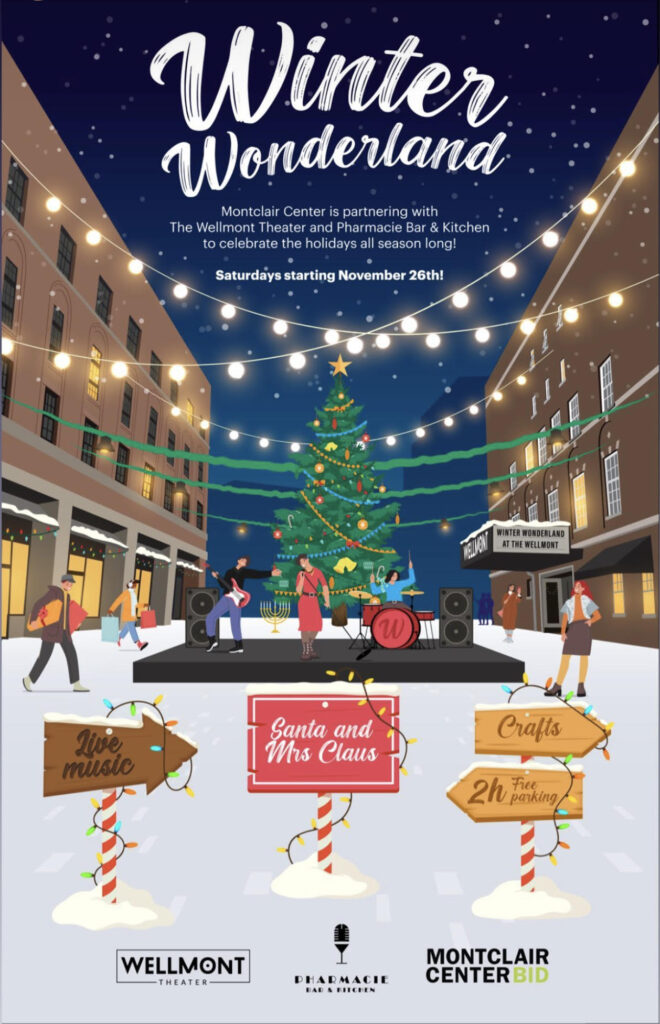 This year, the Montclair Center Business Improvement District is partnering with The Wellmont Theater and Pharmacie Bar+Kitchen to celebrate shopping small all season long starting on November 26th at 12PM for Small Business Saturday Saturday. The Winter Wonderland will kick off with live music and special guests at the Wellmont Arts Plaza, located at 5 Seymour Street in Montclair. Vanguard Theater, Jazz House Kids and Arthur Murray Dance Studio will also be contributing to the festival with live music + performances. The tree lighting will take place on the Wellmont Arts Plaza at 6PM, November 26.
Following the Small Business Saturday event, every Saturday through December 17th, there will be special guests including Santa and Mrs. Claus, The Grinch, Elsa, a unicorn princess, and a hula hooping elf. Family-friendly activities include kids crafts, gnome making station, holiday carolers, raffles and fun activity booths sponsored by local non-profit organizations. Enjoy free gift-wrapping November 26 and December 17 from 1-5PM courtesy of Pharmacie Bar + Kitchen. Special music artists include PD Brody, Kassaye Selassie and Michael Murphy. These are family/pet friendly events.
Winter Wonderland participants will get two hours of free metered parking, compliments of the Township Council.
Check MontclairCenter.com for a complete run of show for each week! They are still in process of adding fun activities. Contact Jacqueline Apicella at Jackie@montclaircenter.com or 973 509 3820 if you would like more information on Winter Wonderland at Wellmont Arts Plaza.
I'll be back with updates on Council business later this month.
I hope all of you get some real down time to enjoy family and friends for the Thanksgiving holiday next week.