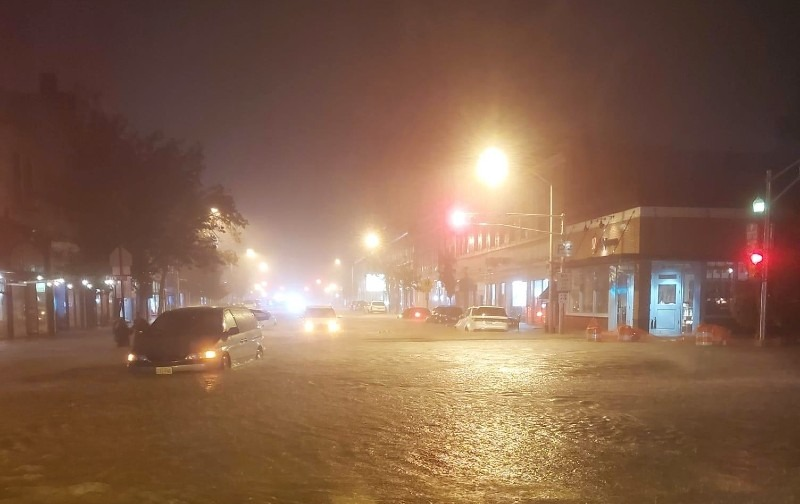 For nearly two months since Ida hit Montclair, I've regularly conversed with and visited businesses and residents impacted by the unprecedented flooding. My promise has been to do everything we can locally while beating the drum for more state and national resources. The below are my thoughts on how to move forward, leaning in large part on recommendations our Planning Board has already made as well as recommendations from the New Jersey Department of Environmental Protection.
Given the exacerbation of storms by climate change and increased development over the last 50 years absent good federal, state or local stormwater management policy; Montclair, like nearly everywhere else, has significant opportunity to course correct. While we did recently implement a revised Stormwater ordinance per state requirements, it only required mitigation of impervious installation (such as retention systems, bioswales – e.g. rain gardens, and other means to contain new runoff on site) and does not limit the extent nor amount of such impervious surface installation. Most New Jersey municipalities, particularly those in our area, do maintain such a requirement. We should fix this as soon as possible.
In December 2020, the Township Planning Board undertook an effort to update the Stormwater Management (SWM) Element of the Township Master Plan which had previously been updated in 2005. The Board scheduled a public hearing on December 14th 2020 where they reviewed the updated Stormwater Management Plan Element, prepared by the Planning Department, with input from the Board Engineer, recommendations from the Environmental Commission and input from the public. The Board adopted this new plan and memorialized the decision by introducing and approving a resolution on January 11, 2021.
I concur with their recommendations and opine on the specifics as follows:
Impervious Coverage in All Zones Ordinance Modifications
We should consider adopting maximum impervious surface standards for all zones. Under the current Zoning ordinance, maximum impervious area is specified for only a handful of zones. Implementation of an impervious coverage or total lot coverage standard (typically a percentage of the lot area) in all zone districts would mitigate runoff downslope. Such a standard would also promote installation of pervious surfaces or a trading approach, such as reduction of a patio or driveway area in exchange for a new swimming pool installation, for example.
This is particularly important in residential zone districts (particularly the R-1) as they comprise most the Township's land area. While these zones do have a limitation on the coverage of a principal building (which applies only to the main principal dwelling), other accessory uses are not included. There is a limitation on the amount of rear yard that can be occupied by some accessory buildings (sheds, detached garages, anything with a roof and wall); however other impervious features such as sports courts, swimming pools, large patios, parking areas, etc. can all be installed without any limitation under the current zoning code.
Off Street Parking and Loading Ordinance Modification
We should modify Article XVII, Off-Street Parking and Loading, Section 347-102 – Design of parking spaces and access. Under the current Zoning ordinance, parking areas and spaces are required to be paved with a hard surface paving. An exception is allowed for single and two-family dwellings which may have gravel driveways. The Planning Board has recommended that this section be revised to allow for permeable or porous pavement in all zones. It is further recommended under the Stormwater Management Plan that the exception permitting use of gravel be rescinded. Gravel washes into the roadway and catch basins, obstructing flow and contributing to localized flooding.
Flood Damage Prevention Ordinance
The provisions of Chapter 164 – Flood Damage Prevention of the Montclair Code should be reviewed and determined to be, in fact, operationally enforced. The Township has a number of special flood hazard areas (link to FEMA map viewer here) and development activity, that according to this Chapter, should be reviewed by the designated administrator – the Township Engineer.
It remains unclear whether properties located within special flood hazard areas been identified and noted in our Building Department records to ensure a review is completed. A solution could be to require applicants to provide information in their permit filing as to the Flood Hazard location of the property on submission; to alleviate staff determinations.
This Flood Damage Prevention ordinance should be evaluated to ensure this administrative process is being followed and implemented to protect both new construction/investment but also adjacent existing properties during flood events.
Stormwater Utility
The 2019 Clean Stormwater and Flood Reduction Act enabled Montclair and other municipalities to create stormwater utilities which could be used to assess a proportional tax relative to the total impervious area of a specific property, including parking lots, driveways and building roofs that are impermeable to stormwater runoff. The revenues from such a tax could then be used to improve stormwater infrastructure including increasing the size and capacity of our many insufficient culverts. This could provide some relief to flood prone areas in light of what we've seen in Montclair in terms of both precipitation pattern changes and significant development over the last decades. I've suggested to my colleagues that a working group comprising Township Engineers with the Planning Department, the Planning Board and perhaps the Environmental Commission collaborate on a recommendation for the Council.
NJ Department of Environmental Protection
The New Jersey Department of Environmental Protection is taking climate change and flooding quite seriously. They recently released a "Resilient NJ: Local Planning For Climate Change Toolkit which can be found here.
Commissioner LaTourette also recently discussed the flood-prone home buyout program called "Blue Acres" which could be expanded in the years ahead and frankly, may be necessary for certain areas in Montclair in the future. You can read his interview here.
I've socialized my thinking on this subject matter with my colleagues in hopes we can start to advance some of these pieces. We must make sure not to let apathy take hold. Dangerous flooding can happen at any time and we must be focused on how we adapt as a town, county, state, country and planet. It starts with the actions of individuals and municipalities in concert with those of the larger institutions mentioned.
My thanks to our Planning Board for the significant work they have done and the recommendations they have made.